#KEEPYOURDIS-DANCE: New Aussie And Kiwi Releases To Listen To This Week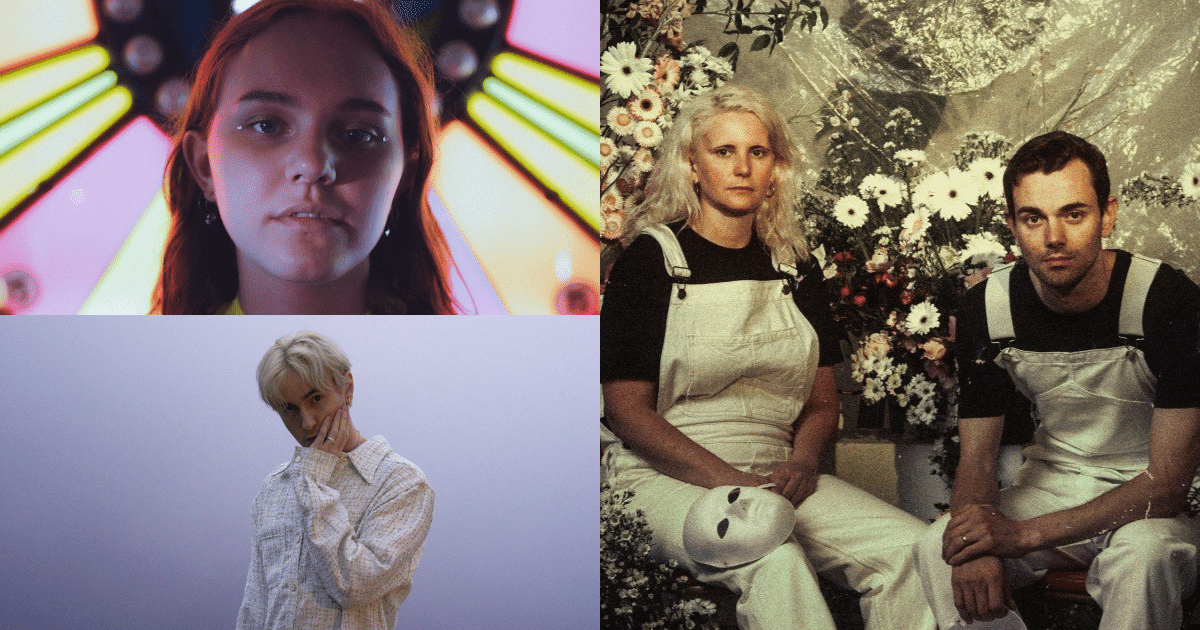 As the music industry continues to face the very real effects of the ever-evolving global health crisis, there has never been a better time to support the local music scene by getting stuck into some new music from local Australian and New Zealand artists.
We've curated our very own playlist to share fresh local music releases so that you can help support musos through this tough time. Check out some of our favourite new releases below.

New this week:
Sycco - My Ways
Brisbane-based rising star Sycco is back with another fresh new single titled 'My Ways'. The track is laced with funky sundrenched guitar and super catchy pop-infused vocals. Give the track a listen in full HERE.
You can also catch Sycco live and in the flesh on her 'Dribble' Tour in April at the Lansdowne Hotel. Nab a ticket HERE.
Big Scary - Stay
After a long period of absence, four-plus years to be exact! Melbourne duo Big Scary are back, releasing a fun new single into the wild titled 'Stay'. This is the first track off their forthcoming 'Daisy' album, scheduled for release on April 30. Give the track a listen HERE.
Thomston - JPA989
New Zealand pop extraordinaire Thomston has just released a brand new single titled 'JPA989' and we're totally obsessed! The track features on his forthcoming sophomore album and is full of super dreamy vocals that we can't get enough of. Listen to the track HERE.
Other noteworthy releases:
GLADES - Dancing in the Mirror
Sydney electro-pop masters GLADES return with yet another stunning single from their forthcoming album. 'Dancing in the Mirror' is the kind of track that, well, makes you want to get up and dance in front of the mirror, like no one, is watching. Give the track a listen HERE.
Jed Parsons - Brunch
Kiwi indie-pop artist Jed Parsons has just dropped his sophomore album titled 'Brunch'. Each of the ten tracks featured on the album are full of warm 60s' inspired instrumentals paired with a side of tasty lyrical delights. Listen to the entire album below.
Yuma X - We Could Be So Good
Sydney immersive electro-pop duo Yuma X are back in a big way in 2021 with a brand new single titled 'We Could Be So Good'. Full of warm and oh so dreamy electro-pop vibes, this track is the perfect pick me up after a long and tough year. Listen to Yuma X's new single HERE.

Blaze The Emperor - H Town (feat. Raiza Biza)
Kiwi-Rwandan rapper Blaze the Emperor has dished out his first track of 2021 titled 'H Town' featuring fellow Kiwi-Rwandan rapper Raiza Biza. The track is full to the brim with catchy rhythms and fierce lyrics. We're also big fans of the badass flute sounds featured throughout the track.
Listen to H Town below.
SACHI - Take Me Back
Kiwi duo SACHI are two young sound makers bringing the heat to 2021. Their latest release 'Take Me Back' is our favourite tracks by far. It's super high energy and the perfect soundtrack for your Friday night!
Listen to Take Me Back HERE.
Jack Gray - Selfish
Sunshine Coast alt-pop artist, Jack Gray has knocked one out of the park again with his brand new single titled 'Selfish'. If you dig dreamy acoustic tracks this one is most certainly for you!
Listen to Selfish HERE.
Close Counters ft. Allysha Joy - Speak In Truth
Local Melbourne duo Close Counters are back with a brand new single titled 'Speak the Truth'. Collaborating with vocalist Allysha Joy of music collective 30/70, the track features a unique blend of soulful jazz-infused broken-beat.
Listen to Speak in Truth HERE. You can also catch Close Counters performing live across the country as supports for Confidence Man this June. More info and tickets HERE.


POOLCLVB - Love Track
Sydney's friendly neighbourhood producer Poolclvb serves up another slab of prime cuts with his latest release titled 'Love Track'. It's a feel-good anthem that's sure to get any party started.
Listen to Love Track HERE.

Odette - Herald
It's been nearly three years since Sydney based singer-songwriter Odette released her debut album 'To A Stranger'. Today Odette finally breaks her silence with a brand-new album titled 'Herald'. Each track is soaked in incredibly heartfelt and emotional lyrics, commanding your attention from the first track to the last.
Listen to Odette's latest album in full HERE. You can also catch her live across the country this May/June as she celebrates the release of 'Herald'. Full details and tickets HERE.
Foley - Better Than Love
New Zealand based pop duo Foley has just released a brand new single titled 'Better Than Love'. It's the final single release from their upcoming EP 'Vacation', and let me tell you, after listening to this track, we can't wait for their EP to be out in the wild. The track is infused with chilled out pop grooves and dreamy vocals that leave you wanting more. Big things to come from this dynamic duo!
Listen to 'Better Than Love' in full HERE. The duo has also just announced the dates for their 'Vacation' EP tour, travelling across New Zealand this February/March. Score tickets to their show at Auckland's Tuning Fork HERE.
Tkay Maidza w/ Yng Baby Tate - Kim
If you haven't noticed yet, we're big fans of Zimbabwe-born, Australian-based rapper Tkay Maidza. She's just released a new track titled 'Kim' in collaboration with Georgia-based rapper Yung Baby Tate, and it's 100% fire. Inspired by her fave childhood cartoon character, Kim Possible, the track features super tight rhymes and Maidza's signature playful quips.
Listen to the track HERE.
Hope D - Cash Only
Brisbane's Hope D is one of the many rising stars who absolutely dominated in 2020, even landing herself a spot in this year's Hottest 100 with her single 'Second'. Today, the singer-songwriter releases her debut EP 'Cash Only'. She'll also be heading on a nationwide tour to support the release next month. More details and tickets HERE.
Listen to Hope D's debut EP in full HERE.
Cloudy - Self-Help Guide
If you haven't heard of Kiwi alt-pop singer-songwriter Cloudy yet, then we suggest you get stuck into her latest single 'Self Help Guide'. This track is the kind of thing you could picture accompanying a gorgeous sunset scene in a Hollywood film. It's raw and emotional in all the right ways.
Give 'Self-Help Guide' a listen HERE.
Komang - Flex
Melbourne/Narrm based vocalist and producer Komang dropped a brand new single late last month titled 'Flex' and we're unequivocally vibing. Oozing with neo-soul flare, this song is the perfect soundtrack for that late-night drive you've been meaning to take.
Listen to 'Flex' HERE.
Swaine Delgado - Dance No More
Perth local Swaine Delgado's new single 'Dance No More' will make you want to do the exact opposite of the song title. It's an absolute bop, featuring simple groovy riffs that you can't help to wiggle your hips to. Listen to the track in full HERE.
Akurei - CLOVER
Brisbane artist Akurei has been absolutely hustling the heck out of 2020, releasing not one but three EPs across the year. His latest release titled 'CLOVER' focuses on the theme of social anxiety, a concept I'm sure a lot of us can relate to, especially after lockdowns ended. If you're a fan of dreamy low-fi guitar and beautifully mellow vocals, we seriously recommend giving the EP a listen.
Get stuck into 'CLOVER' HERE.
Nouri - Yalla Yalla
Rising Kurdish-Kiwi pop songstress Nouri has been bringing home the goods since her debut in 2018. On Friday the singer-songwriter dropped her latest single titled 'Yalla Yalla' and it's all we hoped and dreamed for! A delectable mix of pop and RnB influences, a guaranteed party starter.
Listen to Nouri's new track HERE.


Looking for ways to support artists through these tough times? Here are some simple ways you can help!
1. Buy some Australian and New Zealand music and merchandise directly from the artist's website or via Bandcamp.
2. Consider donating your refunds or a portion for cancelled shows to Support Act's The Sound of Silence fundraiser.
3. Spread the word and contact your fave radio station and ask them to play tracks from local acts you'd love to hear over the airwaves.
4. Buy tickets to artists rescheduled shows as soon as they become available.
Keep streaming your fave local acts on streaming services like Spotify and Apple Music!
FOR MORE BREAKING NEWS CLICK HERE