#KEEPYOURDIS-DANCE: New Australian And New Zealand Music To Enjoy This Week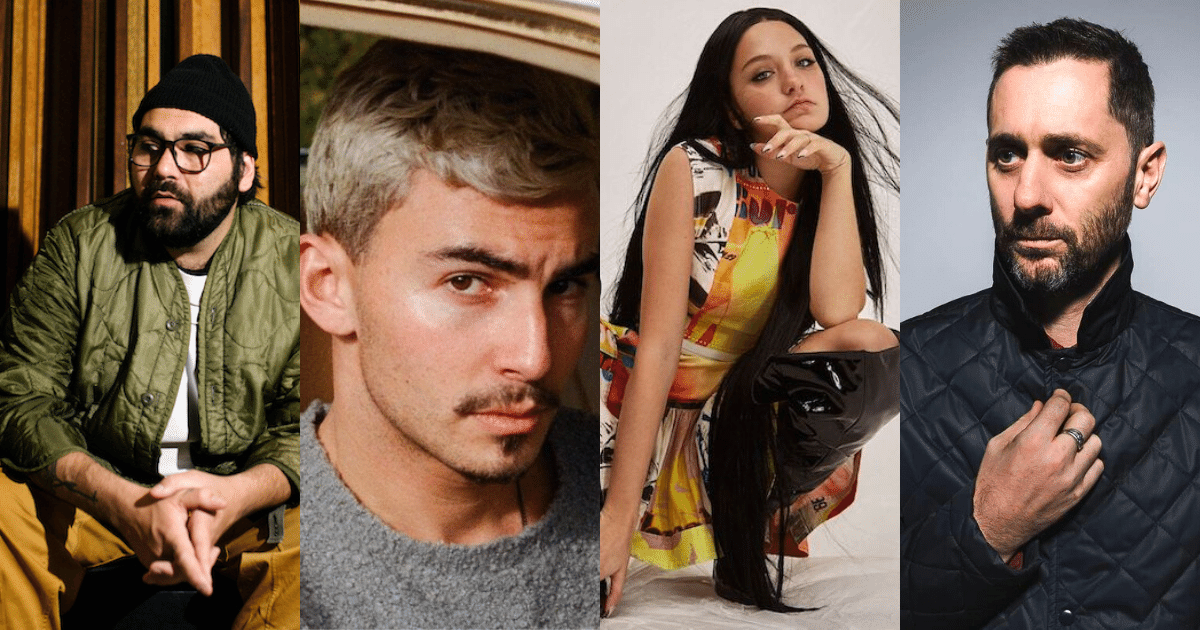 As the music industry faces the very real effects of the ever-evolving global health crisis, there's never been a better time to support the local music scene!
We've curated our very own playlist (#keepyourdis-dance) to share new music releases from local Aussie and Kiwi acts to help you with your music discovery journey. Check out some of our favourites so far below.





New this week:
Sola Rosa - Chasing The Sun
It's been the better half of five years since Kiwi artist Sola Rosa released his last record. Recently, the local legend has come out of the woodwork, dropping a brand new studio album titled 'Chasing The Sun'. Working with the likes of singer-songwriter Josh Barry, neo-soul singer Jerome Thomas, UK reggae star Kiko Bun and Australia's Thandi Phoenix, Rosa's album is just the right vibe we need in our lives right now. Settle in for 51 minutes of pure soulful, funk and trip-hop delightfulness.
Listen to Sola Rosa's new album HERE.
Trials ft. Daniyel - I'm a f**king wreck
One half of Aussie Hip Hop duo A.B. Original, Trials has just dropped his debut solo single titled 'I'm a fucking wreck' and we're big fans. The track features a seamless blend of cross-continental hip-hop and R&B sounds, working alongside US rapper Daniyel to produce a vibrant and unique track.
Listen to Trials new track HERE.


CXLOE- Heavy Part. 1
Okay, so we might be slightly obsessed with pop-powerhouse CXLOE. Since her entrance into the local pop scene in 2017, the singer-songwriter has continued to climb the ranks and her debut EP 'Heavy Part. 1' is a prime example of just how far CXLOE has come. The EP itself explores the highs and lows of CXLOE's life and features heavily house-influenced breakdowns and dark vocals.
Listen to CXLOE's debut EP HERE.
Kirklandd - The Love Divide
Our favourite Canberra-based rapper Kirklandd continues to kick goals in 2020, dropping his debut EP 'The Love Divide'. The EP is packed full of eclectic production and heartfelt, down-tempo vocals.
Listen to Kirklandd's EP HERE.
Other noteworthy releases:
Kobie Dee - Role Models
Gamilaroi rapper Kobie Dee has been on the rise since he released his debut track 'Right Now' back in 2018. 2020 has been a massive year for the NSW artist with the release of his most powerful track 'Still Standing' as well as 'Same Old Shit' and his new single 'Role Models'.
Listen to Role Models HERE.
Julia Jacklin - to Perth, before the border closes
One of our fave Aussie singer-songwriters, Julia Jacklin is back on the new music scene with two brand new songs, titled 'To Perth, before the border closes' and 'CRY'. Both tracks feature Jacklin's signature soothing vocals and relaxed strumming guitar.
Listen to Julia Jacklin's two new releases HERE.
Georgia June - Don't Leave Me Hanging Out To Dry
Sydney based alternative outfit Georgia June is one band we suggest you keep your eyes on very closely. Since breaking into the scene in 2017, the outfit has continued to kick goals and their latest release, titled 'Don't Leave Me Hanging Out To Dry' is a prime example of just how far they've come.
Listen to Georgia June's new song HERE. You can also catch the outfit on their NSW Tour in Sydney and Woollongong this November. More info and tickets HERE.

Aya Yves - Dear E
Canberra's rising star Aya Yves continues to reach new heights with her latest single release, titled 'Dear E'. It's the third single the singer-songwriter has released under her new moniker and we're absolutely obsessed. The track features Yves' spine-tingling vocals paired with elongated ethereal synth notes.
Listen to Aya Yves new single HERE.
Hugh Klein - Sensitive
Melbourne-based muso, Hugh Klein is a welcomed newcomer to the local scene. His latest release 'Sensitive' is a melting pot of deliciousness, intertwining all the best elements of jazz, soul and funk.
Listen to Hugh Klein's new track HERE.
Messy Mammals - Girl
Melbourne-based outfit Messy Mammals remind us gals, just how special we really are (sorry, not sorry boys) with their latest release titled 'Girl'. Released as part of Melbourne's Colour Club Records inaugural compilation 'VA001', the track gives us the major warm and fuzzy's, cleverly interlacing warm soulful vocals with psychedelic synth notes and funky basslines.
Give Messy Mammals new track a listen HERE.
G Flip - You & I
In case you haven't noticed, we're big G Flip Fans and we're absolutely loving her new track 'You & I'. The track is a little more down-tempo compared to her other recent releases but it's equally as great!
Listen to 'You & I' HERE.


Kelsy Karter - Missing Person
Our favourite Kiwi pop-rock extraordinaire Kelsy Karter has just dropped one heck of a debut album titled 'Missing Person'. The Album harnesses a whirlwind of emotions, dishing out a truly intimate and rebellious sound. Each track is full of modern rock melodies that speak of the true struggles and joy of life.
Listen to the entire album HERE.
Genes - Super Single
Townsville's GENES is one rising star you ought to keep your eyes on. Her recent release titled 'Super Single' is everything you've ever wanted in a pop song. Co-written and produced by New Zealand's Rory Noble, the track is carefree and the perfect transition from her other two tracks released earlier in 2020.
Listen to 'Super Single' HERE.
Vacations - Forever in Bloom
It's been two years since this Newcastle indie-pop outfit released their debut album and the wait was definitely worth it! Their sophomore album titled 'Forever in Bloom', highlights the bands uniquely groovy sound, featuring signature jangly guitar riffs and dreamy pop-infused vocals. Our personal fave track off the album is 'Lavender'.
Give the album a listen HERE.
Mallrat - Rockstar
We have a special place in our hearts for Melbourne-based pop powerhouse Mallrat and we're loving every second of her latest single 'Rockstar'. The track makes you want to close your eyes and start swaying. It features a dreamy melting pot of hazy guitar strumming and soothing melodic vocals.
Listen to Mallrat's new single HERE.
Shannen James - Arrows
Melbourne-based singer-songwriter Shannen James has brought a breath of fresh air to the Aussie pop scene with her debut EP 'Arrows'. The EP makes you want to get up and shake the 2020 blues away. James' sun-drenched vocals take centre stage, accompanied by shimmering guitar notes.
Listen to Shannen James new EP 'Arrows' HERE.
Baker Boy ft. Dallas Woods & Sampa The Great - Better Days
Wowee, we're blown away by the latest collab between Baker Boy, Dallas Woods and Sampa The Great. The new track titled 'Better Days' is one rap and groove-filled wonderland that is just what the doctor ordered to get us all through such a grim year.
Get around Baker Boy and Dallas Woods ft. Sampa The Great new track HERE.
CXLOE - Heavy
Sydney's dark pop powerhouse CXLOE is absolutely slaying 2020, releasing her third single of the year titled 'Heavy'. The track is a beautiful blend of murky electronic beats and unwavering vocals.
Listen to CXLOE's new track HERE.
Joji ft. BENEE - Afterthought
Our fave Kiwi pop sensation BENEE has teamed up with Japanese-Australian singer-songwriter and producer Joji to deliver a delicious blend of R&B, trap and pop in the form of their new single 'Afterthought'.
Give the duo's track a listen HERE.
Wax Chattels - Clot
Kiwi three-piece Wax Chattels have just dropped their sophomore album titled 'Clot' and we reckon it's a definite must play this week. Raw grungy vocals, cathartic drumming and guttural guitar sounds entangle the eleven tracks on the album, deep diving into some incredibly heavy themes.
Check out the full album HERE.


Evie Irie - The Optimist
Sydney-based R&B/Soul artist Evie Irie is one artist on the rise and her new EP titled 'The Optimist' has helped to cement her standing in the local and international market. The EP features her signature entrancing vocals paired with pop-infused electronic beats.
Give 'The Optimist' a listen HERE.
Kwame ft. CLYPSO & Phil Fresh - Tommy's In Trouble
Kwame is back with a fresh new collab with Sydney producers CLYPSO and Phil Fresh. The single, titled 'Tommy's In Trouble' is the latest track from Kwame's forthcoming EP, 'Please, Get Home Safe' and speaks of the warped and oppressive nature of society.
The track features an electric flow between the three artists and varying vocal tones.
Give Kwame's new single a listen HERE.
Mildlife - Automatic
Melbourne four-piece Mildlife have one again pulled a technicolour rabbit out of their hat with the release of their sophomore album 'Automatic'. The album showcases a revitalised sound drenched in groovy jazz tones, complimenting their debut album 'Phase' perfectly.
Give Mildlife's new album a listen HERE.
Ninajirachi & Kota Banks - True North
Label mates Ninajirachi and Kota Banks are a force to be reckoned with, joining forces for their new single titled 'True North'. The track seamlessly fuses both artists signature sounds together to cultivate an absolute banger of a track.
Listen to 'True North' HERE.
Flowerkid - miss andry
If you haven't heard of rising star Flowerkid aka Flynn Sant, then we suggest you get stuck into his latest single 'miss angry'. Stant, injects an incredibly raw and honest sound into the track, combining distorted piano notes with goosbump inducing voals.
Listen to 'miss andry' HERE.
Mel Blue - Wake Up Call
Sydney's dance funk outfit Mel Blue has dished out a brand new single titled 'Wake Up Call'. It's full to the brim with funky, slap-a-da-bass attitude and dreamy, sun-drenched vocals. It's a yes from us!
Wrap your ears around Mel Blue's new track HERE.
ASHWARYA - Biryani
Just like the delicious Indian dish itself, Indian-born Melbourne-based rising rap-pop star ASHWARYA delivers mind-melting layers of rap and pop, flavoured with the fragrant spice of bhangra drumming in her new single titled 'Biryani'.
Listen to the single in full HERE.
Lady Lash - Thieving Hearts
Lady Lash is one of those artists that you just can't help but love. The Greek-Indigenous hip hop and jazz artist injects a welcomed spark of energy into the room with her new single titled 'Thieving Hearts'. The track is full of earthy samples and oh so soothing vocals to help you stay grounded.
In addition to her new single, Lady Lash also features in a new documentary screened by NITV which revisits her battles through the hip-hop scene as a female, Indigenous Australian. You can watch the full documentary HERE.
Give 'Thieving Hearts' a listen HERE.
The Phoenix Foundation - Landline
Kiwi indie rockers The Phoenix Foundation have just released an absolute gem of a track which we've had on repeat all day. The new song, titled 'Landline', features super dreamy vocals paired perfectly with synth-laden funky beats. Stay tuned for the band's forthcoming album 'Friend Ship', due out October 16.
Listen to The Phoenix Foundation's new single HERE.
Sophiya - LINGO
Sophiya is a relatively fresh face in the Melbourne rap scene, releasing her debut single 'White Ivory' in 2018. Her latest single titled 'LINGO' has taken her sound to the next level, dishing out absolute fire rhymes throughout. Keep your eyes peeled for Sophiya's debut EP, 'Overdue', scheduled for release on October 9.
Listen to 'LINGO' in full HERE.
Beddy Rays - Better Weather
Brisbane coastal punk rockers Beddy Rays could not have timed the release of their new single 'Better Weather' at a more perfect time. As the days start to get longer and the warmer weather kicks into overdrive, Better Weather is the perfect track to enjoy basking in the glorious sunshine on your daily stroll.
Check out Beddy Rays new single 'Better Weather' HERE.
Cry Club - Nine Of Swords
Melbourne pop duo Cry Club are the pot of gold at the desaturated rainbow of 2020 and their latest release titled 'Nine of Swords' is a true example of the beautiful things that can come out of such a testing time. The track, which features on the duo's forthcoming album, is about overcoming personal anxieties and moving past the unhealthy coping mechanisms. It's full of theatrical boldness, punk-ladened guitar riffs and catchy vocals.
Listen to 'Nine Of Swords' HERE.
Essie Holt - Wanna Stay Up With You
Melbourne-based songwriter Essie Holt is breathing a whole new life into pop music and we're loving it. Her recent release titled 'Wanna Stay Up With You', features the perfect blend of melodic beats and dreamy pop-infused vocals. It definitely has our tick of approval!
Listen to 'Wanna Stay Up With You' HERE.

JK-47 - Made For This
We're calling it. JK-47 is going to be the best breakthrough act of 2020. After recently winning the 2020 triple j Unearthed National Indigenous Music Awards competition, the rapper has taken things to the next level, dropping his very first album titled 'Made For This'. The album is an absolute masterpiece, illuminating the very real issues faced by Indigenous people in Australia. We suggest you hit play on the album ASAP.
Listen to 'Made For This' HERE.
PLGRMS - Limbs
Since 2017, Sydney duo PLGRMS have been dishing out tune after tune. Their latest feat titled 'Limbs' is one of our favourites to date. The track is oozing with moody and oh so groovy synth lines and beautiful unwavering vocals.
Give PLGRMS new track a listen HERE.
Raj Mahal ft. Dante.Knows- Glimpse
There's a new kid on the block and his name is Raj Mahal. He's been slinging some serious heat recently, commanding the attention of the rap community. In his new track 'Glimpse', the rising star has teamed up with budding new wave hip hop act Dante.Knows, bringing a uniquely raw and free-flowing rap style to the table garnished with some authentic Caribbean flavour.
Listen to Glimpse HERE.
Genesis Owusu - I Am
Canberra rapper Genesis Owusu has been bringing some serious heat to 2020 and his latest single titled 'I Am' is no exception. The track itself is jam-packed full of super funky bass lines, upbeat synth licks and laidback vocals. A real track to send off Winter and celebrate the start of spring!
Listen to I Am HERE. You can also catch Owusu performing live at Mary's Underground in Sydney from October 21 - 23. Secure your tickets HERE.

Church & AP - Silhouette Series: Act 1 Scene 1
Rising stars and Auckland's finest dynamic duo Church & AP have dropped two new singles titled 'Deathwish!' and 'Laxit'. Both tracks feature the duo's signature lyrical style and flow, with a unique flare. We absolutely love the Middle Eastern flare in the Deathwish! Track.
Listen to the duo's new tracks HERE.



Ball Park Music - Cherub
Our team have a little sweet spot for Brissy five-piece Ball Park Music and rightfully so when they continue to bring the goods to the table. Their most recent track titled 'Cherub' gives us all the feels (we may have wept a little at the end). The track, which features on the band's upcoming sixth album, takes you on an emotional journey full of strumming guitar and sundrenched folk-inspired vocals. A sure-fire contender for #1 track of 2020 in our opinion!
Listen to Ball Park Music's new track HERE.



Sly Withers - Cracks
Perth legends Sly Withers are back with their second track of 2020 titled 'Cracks'. The single holds true to the bands signature pop-punk riffage, bursting at the seams with energy and raw emotion.
Give 'Cracks' a listen HERE. You can also catch Sly Withers on their recently rescheduled 'Explode into view' Tour mid next year. More info and tickets HERE.
Logic1000 - Perfume
Calling all club kids, if you haven't heard of Sydney-born, Berlin-based electronic producer Logic1000, then we suggest you listen to her latest single titled 'Perfume'. The track is full of euphoric club-ready beats, blended seamlessly together with super soulful vocals.
Cop an earful of Logic1000 new track HERE.
Mo'Ju - Put It On Hold
Mo'Ju is back in 2020 with a brand new single 'Put It On Hold'. The track features a perfect melting pot of dreamy pop melody and rich, soulful vocals. A guaranteed dancefloor favourite!
Listen to the track HERE.

Towns - Boring
Adelaide duo, TOWNS' new track 'Boring', is bringing back some seriously nostalgic teen angst, blink 182 feels. If you're in need of a song you can blast out loud and scream the lyrics at top of your lungs, while jumping up and down on your bed, this is the song for you!
Give 'Boring' a listen HERE.



FELIVAND - Trajectory
FELIVAND is an alt-pop/neo-soul artist hailing from Brisbane. Her new track 'Trajectory', seamlessly fuses funky AF basslines and dreamy soulful vocals, bringing a refreshing and special sound to the table.
Give the track a listen HERE.

Wafia - Good Things
Art-pop artist Wafia has been an office playlist staple at Moshtix for a while now and we are absolutely in love with her new EP 'Good Things'. The EP itself follows the singer-songwriter's journey of self-discovery and digestion of a bad relationship. It's full of seriously catchy pop ballads and euphoric dreamy beats. Our personal fave track is 'Hurricane'.
Listen to Wafia's entire EP HERE.



Tasman Keith - 64 Bars
Homegrown rap legend Tasman Keith brings another heavy-hitter to the table with his new track "64 Bars". Featured in season three of Red Bull's 64 Bars podcast, this track is 64 bars of absolute fire. Cop a listen HERE.
Alice Skye - Blue You (Kev Carmody - 1995)
Victoria's own Alice Skye has released a very special cover of Kev Carmody's 1995 track "Blue You", which is set to appear on the forthcoming Carmody tribute album 'Cannot Buy My Soul'. The album also features performances by fellow Australian acts including Kasey Chambers, Powderfinger's Bernard Fanning, Mo'Ju, Courtney Barnett and more. Give Skye's cover a listen HERE.

Pink Matter - You'll Never Know
Brisbane three-piece Pink Matter have released their first piece of new music for 2020 and we're absolutely loving it. The new single "You'll Never Know", is infused with just the right amount of disco and soul groove. If you're up for a boogie, get this track cued up ASAP. Listen to the new single HERE.

Deryk - One Star
Auckland-based rising star Deryk is one act on our radar. After releasing her debut single 'Call Out' earlier this year, the newcomer has dropped a second single called 'One Star', as well as announcing the forthcoming release of her debut EP 'WOMb' - out October 2. Give her new track a listen HERE.
Teeks - Without You
Kiwi soul singer Teeks is back out of hiding, releasing his first piece of new music in three years. His new single "Without You", is guaranteed to make the hair on the back of your neck stand up. The raw emotion in this track is next-level. Listen to the track in full HERE.


InDuna - Black Man Running
Break out AfroKiwi hip-hop and dance artist, InDuna, has continued to impress fans, reaching new heights with his latest release "Black Man Running". The track is a pleasant continuation of his distinctly unique sound that is deeply rooted in his South African heritage. Listen to the track HERE.
Jerome Farah - I Can't Breathe
Melbourne songwriter and producer Jerome Farah is one artist you ought to keep on your radar. He's co-written tunes with the likes of Baker Boy, KIAN and Kaiit and last week dropped an absolutely incredible debut solo single 'I Can't Breathe'. The track details Farah's experiences with racism in Australia, navigating culture and identity through a seamless fusion of hip hop, RnB and soul.
Listen to Jerome Farah's new track 'I Can't Breathe' HERE.
Looking for ways to support artists through these tough times? Here are some simple ways you can help!
1. Buy some Australian and New Zealand music and merchandise directly from the artist's website or via Bandcamp.
2. Consider donating your refunds or a portion for cancelled shows to Support Act's The Sound of Silence fundraiser.
3. Spread the word and contact your fave radio station and ask them to play tracks from local acts you'd love to hear over the airwaves.
4. Buy tickets to artists rescheduled shows as soon as they become available.
Keep streaming your fave local acts on streaming services like Spotify and Apple Music!
FOR MORE BREAKING NEWS CLICK HERE